Being a Purina Certified Expert Dealer means that we offer a complete line of quality Purina feed products and have knowledgeable associates who care first about our customers, and their animals. Training is a key element for our Certified Expert staff and you can depend on us for Certified Expert advice!
Expert Articles & Advice
May 1, 2013
One major impact weather extremes may have on horse owners is availability and/or quality of hay and pasture. Since the bulk of a horse's diet is hay or pasture, any change in the nutritional content of the forage affects the nutritional status of the horse.
May 1, 2013
In today's society organic gardening is more popular than ever as gardeners attempt to avoid artificial fertilizers and the sometimes-harmful chemicals in pest control. People are more conscious about what they eat, and want the freshest and healthiest food possible.
Special Offers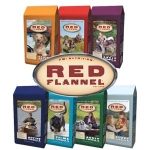 As a part of our customer loyalty program, we are offering buy 8, get 1 free on Red Flannel dog foods!
Purina Mills Videos
Purina Horse Supplements
At Purina, we've spent more than 100 years developing superior nutrition for horses. After numerous scientific formulations, trials and refinements for our new line of supplements, we've found ways to give horses the boost they need to be their best.